Barry Richters: Long term tutor (1983) and Life Member
Classes: Sand Engraving
Barry's expertise lies in Sandblasting, Lamp Making and Leadlighting, each of which he has tutored over the years. Currently, he can be found sharing his expertise with the intermediate workshop students.
His expertise in leadlight panels and lamp making has been recognised by the Association of Stained Glass Lamp Artists (USA) and he has contributed 7 panels to their "quilt" calendars. His " Pixie Garden" lamp, comprising 1008 pieces of glass, was presented in their 2010 calendar and attracts attention still today. To have this experience within the Guild can only inspire our members to reach for the same heights.
---
Jenny Keys: Tutor and member (2008)
Classes: Beginners and Intermediate Leadlight & Copperfoiling; Panel Lamp Construction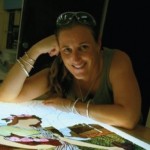 Jenny joined the guild after completing the beginners leadlight course. While she has sand-blasted, slumped, fused and "mosaic-ed", her passion remains leadlight and copperfoiling.  She has made many beautiful lamps, copperfoil Christmas decorations and figurines.
Jenny teaches beginners in lead light and copperfoiling and experienced students in leadlight, copperfoiling, panel lamp construction and copperfoil figurines. She loves the interaction with the students and they love her zany sense of humour. Perhaps, this is why she has a following in the Guild similar to the William Morris movement!
---
Vicki Beldan: Tutor and member
Classes: Beginners and Intermediate Glass Bead Making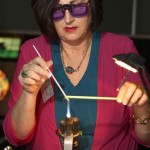 Vicki's journey to Glass Bead Making started in January, 2008. After completing a course with a Melbourne Jeweller and Lamp Work artist, she continued learning from books, and using the internet to discuss ideas with other artists.  In 2013, a course with a world-renowned artist totally changed the way Vicki viewed the possibilities of glass.
While Vicki enjoys encased floral beads, she will try any technique to put her individual stamp on.  She prefers to mix and match a variety of bead types, shapes and colours into jewellery pieces. She juggles molten glass, controlling torch heat and cooling, applying colours and patterns using techniques that are forever challenging.  Most of all, Vicki says "glass bead making is just plain fun!"
---
Catherine Conaty – Tutor and Member
Classes: Beginners Glass Mosaics and Intermediate/Advanced Mosaic Workshops

Catherine Conaty has been creating stained glass mosaics for over 16 years.  She is passionate about mosaics, and loves the limitless possibilities it has to offer as an art form, while being sustainable and permanent.  She also loves to help people explore their creative ability and test out new ideas.  In mosaics, there is an endless source of designs, materials and substrates to choose from, with the only limit being one's imagination!
She is an active member of the Brisbane branch of the Mosaic Association of Australia and New Zealand (MAANZ), and has participated in a number of gallery exhibitions in Brisbane and in Melbourne.  Catherine is also a member of Contemporary Mosaic Artists (CMA) and numerous social media groups dedicated to the love of mosaics.
Deborah Gallon  – Tutor and Member
Classes: Glass Painting and Decorating Workshops using Mud and Unique Glass Enamels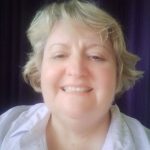 Deb Gallon is "The Glass Traveller", aptly named because of her passions of glass and travel, often combining both. While Deb began creating mosaics, she has tried stained glass, fusing, fused mosaics and glass painting and decorating.  Deb has recently studied with master artists in these fields including Laurie Spray (Bonnydoon Fused Glass Arts, California), Mark Hufford (MSH Design, Texas), Margot Clark (Master Mudder, Florida) and many Australian artists.
Deb's workshops are fun and fast paced as she shares her passion for fusing and glass decorating or painting – her favourite mediums.