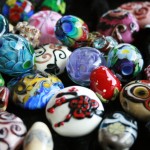 Bead making, also known as Lampwork, is a type of glass art where a torch, or lamp, is primarily used to melt glass. Once molten, the glass is formed into beads by shaping with tools and hand movements. Shape, colour, size, complexity and inclusions can be manipulated into complex designs and figurines.
---
COURSES – BEGINNERS
Glass Bead Making – Beginners
Tutor: Vicki Beldan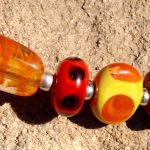 Day 1: Introduction to lampworking tools and equipment; safety requirements, use of hothead torch as well as instruction on how to make your own glass beads. You will have time to practice this new skill with various bead shapes including use of molds.
Day 2: Learn to pull glass stringers; how to apply dots and some other simple decorative techniques while getting creative with colour.
Numbers: Minimum 3 with maximum 4
Prerequisite: No experience necessary. Suitable for students who have never tried torching or those with minimal glass bead making experience.
When: Saturday and Sunday (2 days) 9:30am – 3:00pm
BBM6: 20 and 21 November [FULL]
Cost: $205.00 – includes all glass materials, instruction notes, glass rods and use of torch and tools.
WORKSHOPS
Glass Bead Making – Decorative Techniques
Tutor: Vicki Beldan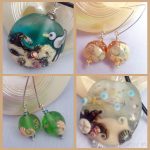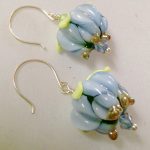 A series of discrete, fun tutorials each exploring a decorative technique and materials for use in glass bead making. Course material and techniques taught will accommodate beginner beadmakers as well as those with more experience to attempt to maximise benefit to all students. Classes are hands-on and will cover new skills and techniques as demonstrated by the tutor and practiced by students in class.
Numbers: Minimum 3 with maximum 4
Prerequisite: Suitable for students who have completed Beginners Glass Bead Making, Try It & Practice It classes or similar. Speak to tutor if unsure of your ability to undertake this  workshop, or, you have a specific technique request within each topic.
When: Saturday or Sunday (2.5 hours) 9:30am – 12:00pm
BBW1: 12 September – Beginner Beadmakers Extension  (FULL) 
BBW2: 18 September – A Floral Murrini technique 

Enrol in workshop

BBW4: 28 November – Christmas Beads 

Enrol in workshop
Cost: $50.00 – includes detailed instruction, notes, glass and use of all equipment.
Note. Some workshops may require purchase of a materials kit (under $5.00) for use in the session, payable to tutor.
Beadmaker Buddy Up
Co-ordinator: Irene Krieger
A get-together for members and lampwork students who have done a Guild Bead Making course to share their glass bead torching experiences including latest triumphs and challenges. This group is the place to seek advice or impart tips and information with others who torch. Bring your beads and questions. Suggest a topic for discussion or a demonstration you would like to see. The group supports Bravery Beads, a Westmead Children's Hospital Initiative.
Numbers: Minimum 1 with maximum 6
Prerequisite: Beginners Glass Bead Making course or similar if using tools and equipment.
When: Saturday (2.5 hours) 9.30am to 12 noon
Due to Covid requirements registering attendance is necessary with numbers capped at 6.
Cost: Members Free. Non-Members welcome. Torch use – $10.00 per hour pro rata (if applies) – only available to members.
Making Beads Independently – Members Only 
Tutor: No tutor for these sessions.
When: Bead Making facilities are available for members' use with a minimum booking of 2 hours during Members' Project Times. Check Guild Calendar
Opportunity for members without access to bead making equipment to improve their skills. Note: Members are to abide by various additional safety conditions outlined in course notes provided by tutor when undertaking torching activities and posted instructions including signing an attendance record.
Numbers: Maximum 5
Prerequisite: Guild Membership and Completion of the Glass Bead Making – Beginners course or similar, and confidence in working independently and safely at the torch without supervision. Please speak to tutor if unsure of your ability to undertake this activity.
Cost: $20.00 for 2 hours minimum, plus $10.00 per hour thereafter, for use of torch, fuel and tools. Glass rods are not included, nor are mandrels or bead release. Glass rods are available for purchase. Bring your own dipped mandrels & container of vermiculite. Pay on day to volunteers in attendance.
Enrolment: No notification required. Please sign attendance record before starting, and after ending, session.