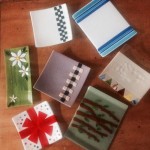 Kiln carving, fusing, and slumping involves placing glass in kilns to melt and fuse glass pieces together, to add textures and patterns, and to mould the glass into forms. These techniques are often used in architectural applications, for windows and door panels, room dividers, signs and trophies.
---
COURSES – BEGINNERS
Fusing & Slumping – BEGINNERS 
Tutor: Katrina Jackson and Kym Braithwaite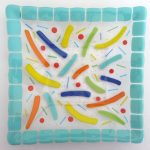 Want to enter the wonderful world of fused and slumped glass? In this course, beginners to glass and those with some experience, will learn processes required to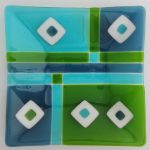 create a beautiful fused and slumped glass piece to take home.  Learn how to cut glass, safety practices when working with glass, how to prepare glass for kiln firing, use and care of Guild kilns, and learn what happens to glass in the fusing and slumping processes.
Prerequisite: No experience necessary.
Numbers: Minimum 5, Maximum 6  

Dates: Saturdays and Sunday  – 2.5 days –
Day 1 & 2: 9:30am – 4:00 pm and Day 3: 12:30pm – 3:30pm
Cost: $395.00 – Includes all materials, patterns, kiln use and course notes.
---
WORKSHOPS
Kiln Carving – Making patterns in glass 
Tutor: Katrina Jackson and Kym Braithwaite
Ever wondered how patterns are "carved" into glass? Kiln carving is a simple firing process that achieves a bas relief, textured, or sculpted look in glass.
Learn technique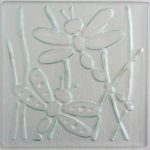 s to create "carved" glass, and how to create and cut patterns from ceramic fibre paper; the types of glass to use; and kiln firing processes involved. Safety procedures for using glass and ceramic fibre products are covered. A great beginner course as no glass cutting skills are required. Experienced glass users will also benefit by learning new techniques to add to their glass skills. Participants will make two glass "kiln carved" projects.
Prerequisite: No experience necessary.
Numbers: Minimum 5, Maximum 6
Dates: Saturday or Sunday – 1 day – 9:30 am – 3:30 pm
Cost: $142.00 – Includes glass, patterns, kiln use and all other materials.
Fused Glass Christmas Decorations

 
Tutor: Chris Bell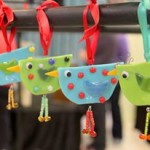 Great presents for Christmas! In this workshop, the tutor will provide a number of Christmas themed designs to work on, or you can bring your own.  Instruction will be given to those who have not cut glass before. Expect to make about 8 to 10 decorations which, after firing, you will take home along with the "bibs and bobs" to decorate them.
Prerequisite: No experience necessary.
Note: This workshop is not a replacement for the beginners fusing and slumping course.
Numbers: Minimum 6, Maximum 7
Dates: Saturday or Sunday – 1 day – 9:30am to 3:30 pm
Cost: $140.00 – includes glass cutting instruction, small glass pack, firing fees, adhesives, ribbons and decorations to  finish at home. Additional glass is available to purchase.
---
COURSES – INTERMEDIATE
Fusing and Slumping – INTERMEDIATE
Tutor: Katrina Jackson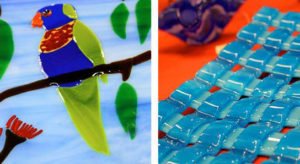 Now you have completed Beginners fusing and slumping, why not experiment and create your own designs with a tutor to support?  Topics include choosing your project (pattern and mold); project design choices; selecting glass, glass cutting techniques; project composition; and setting the kiln.  Come prepared with design ideas and inspirations.
Prerequisite: Guild membership and completion of Beginners Fusing and Slumping course.
Numbers: Minimum 5 Maximum 7
Dates: Saturday or Sunday – 9.30am to 3.30pm  (6 hours)
Cost: $90.00 – glass & kiln hire not included. (Note: Materials and kiln use are charged separately as projects will have different requirements and be ready for firing at different times.)