Creative Glass Guild Gift Vouchers
Does your loved one enjoy making beautiful pieces from glass?
It could be glass beads, leadlight, a mosaic or a fused piece. It could be a course or workshop.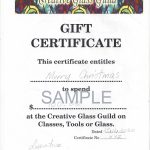 If so, why don't you buy them a gift voucher from the Creative Glass Guild?
Gift Vouchers can be redeemed for courses, coloured or clear glass, tools and more!
Vouchers are requested online and paid for by secure electronic funds transfer into the nominated Creative Glass Guild account on the form.
You can also visit the Guild's Shop, 64 Fulcher Road, Red Hill, Brisbane, any Saturday between 9:00 am to 12:00 pm, Mondays or email to make an appointment.
After completing the voucher request form, the voucher will be prepared for the value nominated, signed by a member of the Management Committee, scanned and emailed as a PDF file for you to print.