Bead making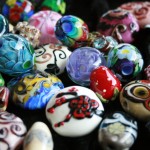 Bead making, also known as Lampwork, is a type of glass art where a torch, or lamp, is primarily used to melt glass. Once molten, the glass is formed into beads by shaping with tools and hand movements. Shape, colour, size, complexity and inclusions can be manipulated into complex designs and figurines.
Examples of beads made by members.
---
COURSES – BEGINNERS
Glass Bead Making – Beginners
Tutor: Vicki Beldan
Saturday and Sunday (2 days) 9:30am – 3:00pm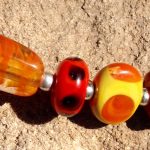 Day 1: Introduction to lampworking tools and equipment; safety requirements, use of hothead torch to make glass beads. Time to practice in addition to getting creative with colour and learning to pull glass stringers.
Day 2: Learn how to make a range of different shaped beads, apply dots and other simple decorative techniques.
Numbers: Minimum 3 with maximum 5
Prerequisite: No experience necessary. Suitable for students who have never tried torching or those with minimal glass Beadmaking experience.
Cost: $175.00 – includes all glass materials, instruction notes, glass rods and use of torch and tools.
WORKSHOPS
Glass Bead Making – Decorative Techniques
Tutor: Vicki Beldan
Wednesday 6:30pm to 9:00pm – 5 sessions each of 1 day
Explores decorative techniques and materials for use in glass bead making. Workshops are hands-on and cover new skills & techniques as demonstrated by the tutor and practiced by students in class. Suitable for both those with some bead making experience and ability to make a round bead, as well as those with experience.
Numbers: Minimum 3 with maximum 5
Prerequisite: Completion of Beginners Glass Bead Making course or similar. Speak to tutor if unsure of ability to take these workshops, or, if you have a specific technique request within each topic.
Cost: $45.00 – includes instruction, notes, glass and use of all equipment.
Some workshops may need a materials kit under $5.00, for use in session, payable to tutor.
'Going Solo' – Making Beads Independently – Members Only
Tutor: No tutor for these sessions.
Bead making studio is available for 'Going Solo' during "Members Project Days" as follows:
Mondays 10:00am – 4:30pm
Mondays 6:30pm – 9:00pm
Fridays 9:30am – 12:30pm
Saturday 9:00am to 12:00pm
Sessions provide opportunity for members who don't have access to bead making equipment to improve their skills. Note: Members should abide by various additional safety conditions as outlined by the tutor when undertaking this activity, including signing an attendance record.
Numbers: Maximum 5
Prerequisite: Guild Membership and completion of "Basic Bead Making for Beginners – Level 1" or equivalent, as assessed by Tutor.
Cost: $14.00 for up to 2 hours, plus $5.00 per hour thereafter, for use of torch, fuel and tools. Glass rods are available for purchase.
Enrolment: No notification required. Please sign attendance record before starting, and after ending, session. Pay on day to volunteers in attendance.
Beadmaker Buddy Up
Co-ordinator: Irene Krieger
Saturday 9.30am to 12 noon
Provides opportunity for lampworkers to share experiences and learn from each other in a friendly environment. For beadmakers of all skill levels – those who are new, thinking of coming back or have been at it for years. Buddy-Up encourages sharing tips, learning new skills or problem solving, "show and tell", new glass discoveries, favourite tools or what's new in the Library. A member might show how they do something from pulling a stringer to making their favourite bead. Anything is possible!
Numbers: Minimum 1 with maximum 10
Prerequisite: Beginners Glass Bead Making course or similar if using tools and equipment.
Cost: Members: Free. Non-Members accompanying members: $5.00
While one may turn up on the day, email is appreciated to express interest or register attendance.