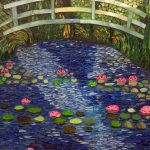 Mosaics are images created by glueing or embedding smaller materials to a surface. They may be made on a variety of surfaces called substrate, and incorporate different medium – glass, stone, terracotta etc. They are suitable for indoor or outdoors and are an enduring art form with endless possibilities, from small pendants to large architectural installations.
---
COURSES – BEGINNERS
Mosaics – BEGINNERS
Tutor: Catherine Conaty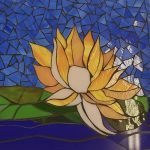 Covers skills and techniques while creating a mosaic on a 30 cm x 30 cm substrate suitable for indoors or out.  Course includes introductory session on glass scoring and cutting, safety, use of tools and pattern design. Tutor will provide examples of suitable projects at appropriate level for you to work on during the 21 hour course.  Students are welcome to select their own designs for tutor to assess for suitability. At the end you will have not only a beautiful mosaic to take home, but also the knowledge to create your own glass mosaic projects.
Numbers: Minimum 1, Maximum 2 (with 6 or 7 intermediate students)  
Prerequisite: No prior experience required. 
Cost:  $350.00 – includes all materials and course notes.
Dates – Evening:  Saturday or Sunday, then Wednesday evening
Sunday (9:00am to 12:00pm) and Wednesday (6:00 to 9:00pm) – 21 hours
Dates – Daytime:  Saturday or Sunday, then Thursday daytime
Sunday (9:00am to 12:00pm) and  Thursday (9:30am to 12:30pm) – 21 hours
BM10: Sun 26 September, then Thurs 7 & 13 Otober, then Thurs 28 October to 18 November  FULL 
COURSES – INTERMEDIATE
Mosaics – INTERMEDIATE
Tutor: Catherine Conaty
Intermediate courses are for students who want to explore different techniques in mosaics and experiment with different adhesives and substrates with tutor assistance. Your project is of your own choosing and you can work at your own pace. Projects that students have worked on include mixed media, glass embellishment, paper under glass, glass on glass, smalti, mosaics on mesh, 3 dimensional and portraits to name a few!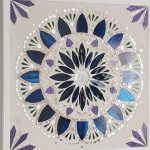 Numbers: Minimum 6, Maximum 7
Prerequisite: Guild membership and completion of Beginners Mosaics course; or, Proficiency in glass scoring / cutting, substrate and adhesives knowledge and ability as assessed by Tutor.
Cost: $175.00 – materials not included.
Dates:  Wednesday evening or Thursday daytime
Wednesday – 6.00pm to 9.00pm – 6 weeks
IM11: Wed 13 October to 17 November [FULL]
Thursday – 9:30am to 12:30pm – 6 weeks
IM12: Thurs 14 October to 18 November [FULL]
---
WORKSHOPS
Mosaic Pendants
Tutor: Chris Bell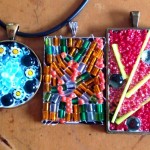 Workshop introduces you to making mosaic jewellery. You will have the opportunity to make three mosaic pendants using bezel settings, glass, millefiori, beads and bling.
Numbers: Minimum 6 with maximum of 7
Prerequisite: No experience necessary.
Dates: Saturday – 10:00 am to 3:00 pm (5 hours)
Cost: $90.00 – includes all materials