Glass Painting and Decorating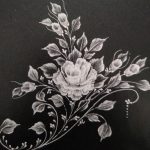 Glass painting and decorating is much simpler then stained glass yet creates an equally beautiful piece of artwork.  The painting technique can look similar to traditional stained glass although  colours are generally brighter and more versatile. Glass painting and decorating can be as challenging or as simple as you like; kiln fired or not. No great painting or drawing skills are required – a little practice and patience is all you need.
COURSES CANCELLED FOR REMAINDER OF 2020 DUE TO COVID-19
Following analysis of the risks involved in teaching courses that are very hands-on, tutors made the decision to cancel courses for the rest of this year. It is difficult to practice hand hygiene when handling glass and tools and the workroom space limits safe physical distancing. The COVID situation will be monitored and reviewed in January 2021.
Expressions of interest are being taken and you will be contacted when dates are scheduled.
WORKSHOPS
Watch for exciting new workshops in 2021! 
Think faux murrini coaster, painted glass garden stakes and a faux "pottery" plate. Details coming soon!
Following are examples only of what one might complete in a workshop.