Sand Engraving and Carving
Sand engraving and sand carving, also known as sandblasting, is used to produce a deep etch, surface frost, or, somewhere in between. It is a technique used since glass as an art medium was first used. Sandblasting into glass creates a three dimensional effect which gives life, effect and tone to clear glass. It can be used for signage, to decorate room dividers, corporate logos, certificates and awards, and special gifts.
---
CLOSURES DUE TO NOVEL CORONAVIRUS (COVID-19)
Courses at the Creative Glass Guild of Queensland were stopped in March. Public health rules require 4 square metres per student when indoors. This is difficult in our hands-on classes. We will open courses when it is safe to do so.
Course dates as advertised on this website will be rescheduled. For those who wish to express interest, please complete enrolment forms without payment by putting "zero" in the Payment and Receipt Details. We will contact you when dates are set.
COURSES – BEGINNERS
Sandblasting – BEGINNERS
Tutor: Barry Richters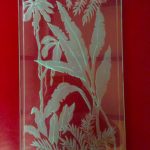 Choose from a number of beginner designs to create your sandblasted piece. Each of these designs will teach the necessary sand engraving and carving techniques to create pieces that can be used in lamp shades, leadlight windows, sun catchers or on wine glasses or other decorative glass items.  Sandblasting  is also useful for cold working kiln fired projects.
Numbers: Minimum 3 with maximum of 5
Prerequisite: No experience necessary.
When: Saturday & Sunday 9.00am to 4pm – 2 day course
Cost: $230.00 – includes all materials.
---
Sandblasting – INTERMEDIATE
Tutor: Barry Richters
Tuesday  6:30 to 9:30 pm (4 weeks)
This combined course is for those who want to continue in a class environment with a tutor available for assistance. Barry can help with your  sandblasting project; repairing a leadlight or copperfoil piece or extending your leadlight or copperfoil techniques.
Materials are not included in the cost and will need to be purchased separately. Projects are of your own choosing and you can work at your own pace.
Numbers: Minimum  6 with maximum of 8
Prerequisite: Completion of Beginner course for sandblasting glass.
Cost: $85.00 – materials not included.
---