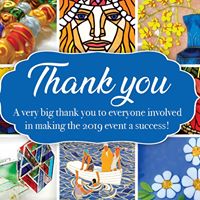 Our Annual Exhibition provides members with opportunity to display and sell their skill in various glass art forms, including mosaics, leadlight, copper foiling, fused or slumped glass, beadmaking, sandblasting, lampmaking and stained glass.
Held each July in the Auditorium, Mt Coot-tha Botanical Gardens, Mt Coot-tha Road, Toowong, visitors can watch Guild members demonstrating their skills, talk to glass artists and tutors, or sign up for a course to get started on the road to glass artistry.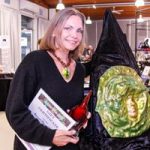 The Special Theme Award for our last Exhibition in 2019 was "Celebration", a theme broad enough to allow members to be creative in their interpretation.  Talented artist, Catja White won for her beautiful cast and moulded piece.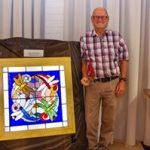 Attendees at the Exhibition also voted for their favourite piece in the People's Choice Award. Ken Ede won this award for his copperfoil / leadlight piece "Dragonflies".